Are you planning of going to graduate school, you may have to take the GRE test, or the Graduate Record Exam, one of the most common requirements in many graduate schools. In some cases, there are students who do not want to submit their test scores and for reasons. Some of them think that they do not fare well in this type of exam, which may affect their application.
For some, they want to request for this GRE waiver because they believe that they have sufficient knowledge and skills in meeting the things that the GRE is measuring. If you are one of these applicants, check out the following sections for your guidance on how to come up with a precise letter of waiver for GRE MBA.
We know how to create a stunning MCAT waiver letter! Learn more here!
GRE MBA Waiver Structure
Before writing, it is essential that you know how to write your letter so that you will be able to do it right and to achieve your purpose of waiver, which is to be allowed not to submit your GRE as one of the requirements. Check out the following for the important sections and content to include in your letter.
First paragraph of the GRE MBA request letter is the purpose you are writing the admissions committee. Tell them exactly that you are writing to request for your GRE to be waived.
In the next paragraphs, second and third, be able to demonstrate why you do not have to submit the letter. This will be the section where to tell the committee on the specific points you do not have to send the GRE MBA to complete your application, and such may include your professional and your academic background or skills that you believe are enough to prove that you don't have to submit your GRE. When claiming things, you must be able to quantify by using examples or illustrations.
In the closing paragraph of the GRE waiver letter, you should restate your intention of waiving the GRE and completing your application to the school without it. Thank and let them know that you are going to wait for an update about the status of the request whether it is approved or not.
Also you can get to know about some tips for your SoP edit.
Good GRE Waiver Letter Sample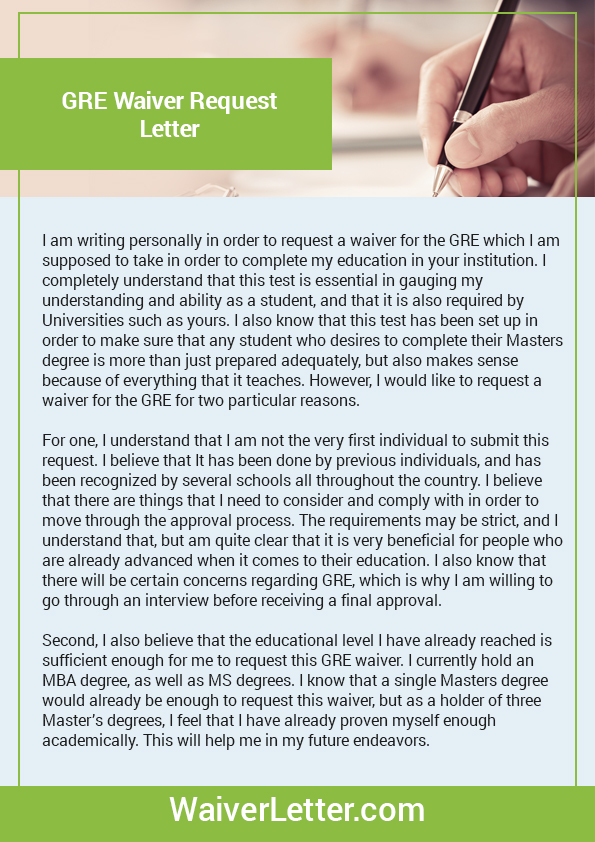 Tips for GRE Waiver Letter Writing
Do not start with the letter unless you have fully read and understood the qualifications set by the school in terms of giving permissions to applicants who want to waive their GRE. If you are qualified, start conceptualizing what to include in your letter.
Write an outline so that you can make use of a map of ideas on what to write in every section.
When using specific professional and academic experience, make sure that they are measured by the GRE so that you can show to your readers that indeed you don't need to submit it with your application.
Proofread and edit your paper before submitting the waiver letter.
There you have what to know about the GRE waiver letter as well as important points on structure to follow. Finally, check out the guidelines set by the school before writing to know that you qualify for the requirements of students who can request a waiver of GRE.
If you need more info on a MBA GMAT waiver structure, feel free to stay at our website for a while.
Start writing your GRE waiver letter today!